Hmmm. Ang tagal ko na rin di nag post. It was terribly a very busy week.
BACKpackSLASH.
I got my bag slashed last Tuesday at the BUS STOP at SM North EDSA - Annex. I was on my way home from school and I was waiting at the bus stop to catch a ride. I had waited there for about 5 minutes then I got up on the bus. As I fixed my backpack, I saw that it had a big slash on its lower right part. I thought at first that it was caught up by a hanging piece of wire and got torn. But as I got home, my dad and my mom said that I was a victim of BACKpackSLASH. They said that these crooks uses razor blade to cut your back on get whats inside. I was lucky that they got nothing from my bag, since it was full of papers (ie a big garbage bag). My phone was secretly stashed on a safe pocket and it was completely safe.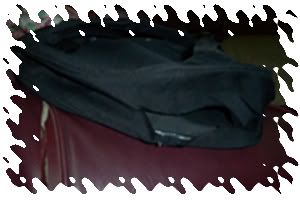 SWIM on the 13th.

It was both our editing day for our CWTS documentary and our semender for UP MCO. It was a very hectic day. At first I was never really decided to go to our MCO party but doubt filled up and excuses were made, so I sneaked out (not literally sneaked out but I did tell my groupmates about it) to our editing an went into our semender. I was not prepared for this activity talaga. I got no swim shorts, towels, extra clothes prepared but I still went to the resort. It was in Valenzuela and it was sort of an out of the city escapade for me. I didn't hesitate to jump on the pool and swam a lap or two.
It was also nice to see my orgmates again which I totally miss. I got to bond with them for a short while and got to chit-chat with them for updates. After that, I got myself dried up and through my genius ideas, I had myself back into shape and ready for editing. I left my orgmates in Valenzuela and headed back to QC for our editing.
EDIT PARTY GALORE on a FRIDAY.

I got to the editing process shortly before dark. There were few improvements and they were still on the process of dubbing. It was really a very painful job. We were awake the whole night finishing the editing process. We just sat there, look on the editing process, filled our stomachs with chips and coffee. I considered myself as a big bum in this activity as, along with my groupmate, goofed along the night. And at around 6am, we had it completely finished. I was really glad that it was over and seeing the final product made me realize what an accomplishment we had made. We had made a documentary and were not even film-makers! woohoo! A big salute to me and my groupmates!
All in all, I am glad that my CWTS will be over. I will truly miss my groupmates, no doubt about it, but I'm really glad that I will be back to my relaxed and bummed self. (harhar). It was a noteworthy experience and I won't forget what it had instilled in me.


SURVIVOR UPDATE

Caryn was gone. Yeepee! I don't like this girl. I'm really looking forward on its finale this coming Monday. I hope Ian wins.