It had been some time since I last posted. I was planning to change the template before making a new post. Now I got a new template.
I was to attend the UJP symposium Saturday morning and the photoshoot after. It was supposed to be my first activity in UJP as full member but I got caught up with my earlier plan.
At 7am Saturday morning, I had an appointment with my doctor for a lab exam. But unfortunately, I woke up late and arrived at the hospital at 8am. There were lots of people inside, it was a like the Harry Potter Movie line, too bad they won't like what they will about to see and hear. (It applies to both the real thing and the metaphor.hehe)
I got out of the hospital at around 10:00 in the morning and I planned to go on to the UJP event even though I'll be 2 1/2 hours late. But I decided not to since I don't want to make a grand entrance on the symposium. Next time na lang siguro.
S, I went back home. With nothing to planned to do (except for my economics HW), I went to our stash of DVDs and watched JUST MARRIED starring Ashton Kutcher and Brittany Murphy.
I got a text from Daryl to attend the forum offered by Kapuluan. Kapuluan is this all male, Catholic driven organization in UP. I was planning to join the organization since last year, so I decided to went to the forum. After the mini forum, I was "oriented" by Daryl and some of the Kaps people about Kapuluan.After, they had this Latin meditation and I was invited to talk with the priest for spiritual direction. I t was a good thing because I want to be near with Lord that I felt I was got lost since I graduated from Angelicum. I did sign up with Kapuluan and I'm planning to go on with it. But the question arrives, How can I handle three organizations? hehe.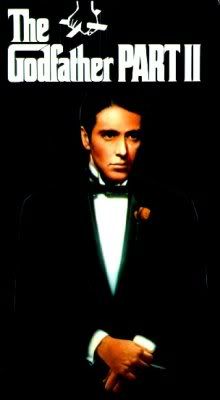 I got home at around 9pm and I dropped by Videocity to get "The Godfather: Part2" DVD. It was not as good as the first movie but it was better than the third. It seems ironic that after getting into a christian meditation and religious formation, I went to watch a violent film. And come to think, the title of the film is The GODfather.hehe