Last night Avril Lavigne together with Simple Plan held a concert here in Manila and I am so lucky that I got to watch it (
for FREE!
). I won 2 tickets from this Mentos Contest. Super saya ko na I won!!! Wahahaha!
Ticket Dilemma
Since 2 tickets yun napanalunan ko, I don't know kung kanino ko ibibigay yun isang ticket. I got the ticket Wednesday afternoon, so I started calling people kung gusto nilang sumama. I called some of my high school friends kung gusto nila sumama but hindi daw sila papayagan. Maraming may gusto kaya nga lang di lang daw talaga pwede. I also contacted some of my UP friends, still wala pa rin gustong sumama. I mean, I'm giving them for free a P1,500 ticket, but it seems na ayaw nila.
Dumating na ang Thursday morning and still wala pa rin gustong sumama. I'm so desperate na may makuha akong kasama, but wala pa ring pumapayag. Nun bandang 2pm lang ako nakakuha ng kasama. It was
Doreen
, my Bio1 classmate/coursemate/orgmate ko ang pumayag na sumama. Hmmm... siguro dahil short notice lang mahirap talagang makakuha ng kasama.
Talk with Manong Taxi Driver
Doreen and I were in Glorietta to get on a taxi to the Fort (where Avril's concert was held.). Nun pagsakay namin ng taxi, we had a little chat with the taxi driver. Third time na niyang maghatid dun sa concert venue. On the way there, we talked about the trips he had made there. Also, there were some questions asked from both us and from him. Alam mo yun, para bang talkshow yun nangyari. It's very rare for me to have a little chat with a taxi driver. Baka it serves as a training for me na rin (being a journalist na rin...). We got there and for I don't know what reason I gave our driver a tip. Hihi. Nakakatuwa!

Jammin' with Simple Plan
Nun nakarating kami sa concert venue, we started looking for our seats. Nun nakita na namin, I realized na medyo malapit-lapit na rin yun seat namin sa stage (mga 100 meters ang layo). I was so anxious na magstart yun concert. Anyway, before the concert started, I went to see my high school classmate,
Irvin
, na nandun din sa concert.

Simple Plan
performed first. We end up standing in front, instead of sitting kasi people began standing and blocking the way. tsk tsk.
I don't really know all simple plan songs, yun mga major songs lang alam ko. So, I ended up, staring at them. So ang ginawa ko na lang, I took some pictures through my phone and (illegally) with a camera.
They were good concert performers, by the way, kasi they always interact with the audience (saying those lines like "hold your hands in the air", "mahal ko kayo", "galing niyo", etc.). Some Simple Plans songs performed were
Perfect, I'm just a kid, Welcome to my life, addicted
and this new song "
Crazy
" (first time daw itong naperform on stage.) I also love their concert cover of The Darkness' I believe in a thing called love.
I had
enjoyed
their performance, but I'm looking forward talaga on Avril's. (sorry, Simple Plan fans)
Avril, Ikaw na ba yan?
I had long been waiting to see Avril perform. Since 2002, I promised myself that I would be going to her concert pag nagperform siya dito sa Pilipinas. Nun nalaman ko na she will have a concert here in Manila, I was very much excited. Pero because of the lack of money, it seemed that all my hopes of seeing here was fading. Pero nun nalaman ko, na I'll be going to her concert, I was so frantically amazed! Tinadhana ata na magkita kami...hehe
Matagal-tagal din yun intermission between the two performers and by the time na lumabas siya, people came rushing back to the front. Avril's really pretty, her golden long hair like a princess, her glittering eyes, I really can't believe na I'm seeing her in person.
She had a really
stunning
performance. Some highlights were nun nagperform siya while playing the piano at nun she played the drums for this cover song. Songs performed where My Happy Ending,
He Wasn't, Tomorrow, Losing Grip, Mobile, Things I'll Never Say, I'm With you, Don't Tell Me,
etc. and of course
Sk8er Boi
and
Complicated
. While performing, di ako matigil sa pagkuha ng pictures.
It was a dream come true for me to see her perform because I'm really big fan (ask my HS classmates). The concert ended ng mga 11pm. Masyadong maaga and it was really bitin but it was really cool and they both rock! No words can explain my feeling after nun concert. Siguro it was both fulfilling and relaxing (after 4 grueling exam days). But I enjoyed it, totally.
Tapped Taxi Meter?
Ang hirap sumakay pauwi! We waited for at least an hour then we stopped this AUV picking up passengers going to EDSA. Pagdating ng EDSA, we rode a bus to Munoz and then rode a taxi para ihatid si DOreen sa Visayas Ave.. Compared dun sa mabait na taxi driver kanina, this one's a real snitch. From Munoz to Visayas Ave., yun meter niya jumped to 100 pesos. Di naman dapat ganun kasi nga from Glorietta to the fort 67.50 pesos lang (it was traffic pa nun, so mahal talaga.). Then from Visayas to Mindanao Ave., 65 pesos yun dinagdag. Pinabayaan ko na lang kasi I'm not in the mood in confronting a taxi driver. I don't what that happy feeling na maalis sa katawan ko because of a taxi driver
So Anong Masasabi Ko?
Super enjoy talaga ang concert!!! Wahahaha!!! I'm so happy! It was really a blessing na I got to watch the concert for free.
Avril and Simple Plan really rocked at the concert
. I'm looking forward to seeing them again (sana mas malapit na!).It was an experience I won't forget.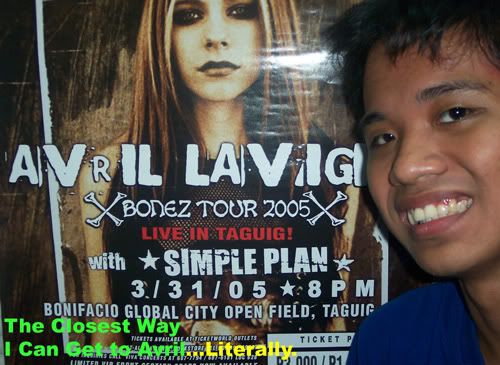 ___________________________________________________
SURVIVOR UPDATE:
I forgot to put one last week so add ko na lang ngayon. Ulong had been losing really bad talaga. First time in Survivor history na ang isang tribe didn't get any immunity during the tribe challenges. Anyway, James was voted last week and today, Ibrehem was voted out. Merge will happen (ata?) sa next episode, I hope magsusurvive si Steph at Bobby.

JAMES

IBREHEM