Whew!
Hectic Schedule...
it's really the start of school.... uncontrollable number of readings! My eyes are getting tired of reading all those small lines of words.
Today was my first monday class this semester. Whew, i'm glad that school week started again on a monday (not on a tuesday like the past two weeks). Then again next monday, classes are again out because of the bonifacio holiday...
A nice thing today happened, I got my MCO shirt! Yipee!!!!!
MCO Shirt!

MCO shirt!

And another thing, I finally had the chance to dine at the chocolate kiss at the bahay ng alumni. This was the first time ever that I had eaten there...
Well anyway, Survivor Update!
Chad is out! I really like Chad at the first episodes, because of his disability thing and that he is able to join survivor... but I guess the women alliance really got into his way of winning...
Chad is out! Who's next?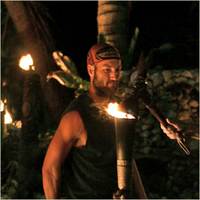 I really like the alliance that the women formed. I guess, that alliance (if it will continue) will give mark this survivor season as the women empowerment season..
And again, I still bet that Ami or Jules will win ( I hope!)