hi,
first of all, please pray for the victims of the floods here in Luzon.
but my only point is that it was their fault why floods came rushing to their community because of their unending logging!
Sana naman maliwanagan na kayo.
Just to let you know, just got in from school. I only had two classes today. SocSci 2 and Eng1. Wala kaming arnis eh.
Well today was the orientation of MCO applicants... Daming familiar faces, classmates ko last semester yung iba... i hope magtuloy sila..
may Buddy pala ako... Si LJ!!! Friend ko from last semester's math 1...
Well Survivor Update:
LeAnn is out..shocks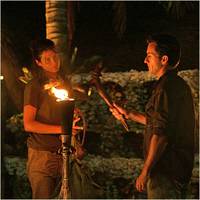 It was really shocking that LeAnn was voted out. I really liked the alliance they formed before (all women till finals). Kasi para at least mabigyang tatak ang season na ito. But unfortunately, maaring di ito matuloy...
But still Go Ami pa rin!!!