March nanaman and it had been almost a year since I graduated from High School. How I miss Angelicum, ewan ko ba.. four years lang ako dun nagaral, then again it seemed na I was there forever... I'll post nalang the ten reasons why I miss Angelicum (and high school.)
TOP TEN REASONS WHY I MISS HIGH SCHOOL.
10. I miss updating every March ng aking Swimming.
Every March since nun YS8 (1st yr) ako, naguupdate na ako ng swimming, mapa-freestyle man o butterfly. Ewan ko kahit I hated this thing, nakakamiss pa rin.
9. I miss Sto. Domingo Church
. I love this church, ang laki-laki niya, I remember pagbababa ako sa jeepney, bababa ako dun sa may middle part ng church, then I'll go inside then dadaan sa Sto. Domingo Gate ng school namin.

8. I miss the ChocoFloat at Fried Chicken sa Baby's Canteen.
Iba talaga ang Fried Chicken ng Baby's Canteen, walang sinabi ang MCdo or KFC. Then also ang every so sweet na ChocoFloat, sana magtinda sila sa UP.
7. I miss calling myself as YS__.
Since I'm from a non-graded school, wala kami Grade 1-6 na standing, we only call them as YS or Years in School. Wala lang, kahit corny, I love those terms.
6. I miss playing softball.
Haay, nakakamiss magsoftball! ewan ko ba, kahit di naman ako ganun ka-eager maglaro nito nung HS (and still may Gold medal pa rin ako for this), I miss playing it. Kasi nakakaalis ng stress and yet challenging you pa to go further.
5. I miss some of my Moderators/Learning Facilitators.
Haay, it seems weird, pero I miss them. I miss Gordo's "HALA!HALA!" or Mrs. Magsino's "weird intonation". I miss some of my teachers nun!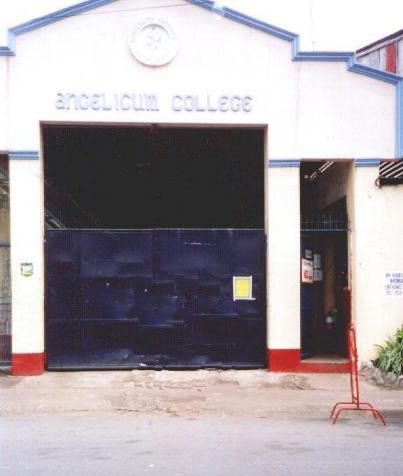 4. I miss doing modules.
I miss those photocopied papers compiled into a folder we call as a module. Ito ang ginagamit namin instead of books. Nakakamiss maguwi nito tapos di mo naman babasahin. Gagawin mo yun Pre-test, Activities then yun Post-Test. I miss doing Mastery Activities or MAs. Instead of having periodical exams, ito ang ginagawa namin. After ng isang lesson, we'll take an MA. Pagnakapasa ka dito, ayos! pag hindi, take ulit or re-answer.


3. I miss Angelicum Nth.
Haay, ang school paper namin. Nun YS11 (4th yr.) ko lang to na enjoy, but still namimiss ko na siya. Bugging the writers to pass their article, using Ms. Doty's Digicam para magkuha ng pics. Makakuha ng free access sa mga events dahil member ka ng paper. Then again, i'll still have to deal with it nga
yon since I'm taking up Journalism.
2. I miss the Non Graded System.
Haay, alam mo yun.. you don't need to worry about getting a 2.0 or a 3.0 from your exam. Ang kailangan mo lang ay makapasa. Pagbumagsak ka, all you need to do is to retake it. Dati nga, I took 10 exams sa isang module ng YS8 Math. Kahit ganun, di pa rin ako nagworry masyado. Tapos, pag PTC na, makikita mo kung ilang modules nalang tatapusin mo. Tapos meron din nakapost sa Bulletin Board na module list, then you'll highlight your accomplished modules. Ang masaya noon, you don't have to worry on what grade you'll get as long as pumasa ka. Kaya siguro, nadala ko yun ngayon sa college.
1. I miss my High School Friends.
Haay, I miss everyone. From the geekaloids to the Frat members. Ewan ko, namiss ko ang tawanan, iyakan, awayan at kung ano-ano pa. I miss St. Elizabeth, MSG etc. Miss ko lahat kayo.
At yun nga, how I miss na nasa Angelicum pa rin ako but I need to move on. But those memories won't be forgotten.
SURVIVOR UPDATE:

Kim
went Bye-bye as she was voted off on the latest episode. Tune in next week, there will be a twist "daw".