SUNDAY:
Naghanda na ako for my island hopping tour in Honda Tour. I had my breakfast at the hotel and after an hour left the hotel.
Tatlo lang kami sa tour, ako and a couple Mr. and Mrs. Dy. Ang ganda nga, coincidence lang kasi uncle and aunt siya ng classmate ko from high school. hehe. nakakatuwa.Also, we had a tour guide, si ate ana, na super kulit para siyang ate talaga.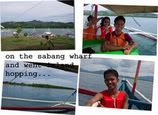 We traveled by land to the Sabang Wharf for about an hour. It was a bumpy ride since medyo di pa ayos ang streets. We had reached the wharf and I borrowed some snorkeling stuff. I was really anticipating this snorkeling activity. First time ko lang mag-snorkeling and with my not so trustworthy swimming skills, it was really an experience that I will truly cherish.
We rode this boat (named Jollibee, haha) and started our island hopping. First we went into snake island. It was a 40-minute trip on a small boat. Nakakahilo kaya sa bangka, and when we got there I was not feeling that well. It was called snake island since there was this strip of sand that is curving on a shape of a snake. We fed some fishes. Nakakatuwa kaya to, you are in some 4 and 1/2 feet of water and colorful fishes. Then, I went snorkeling. It was a freaky snorkeling experience. I was on this water, 10 meters deep. Di talaga ako magaling sa swimming, so I had a life vest with me. It was a nice experience. Makakakita ka ng corals and different fishes there. Haha! I hope pwede yun camera ko dun so that nakakuha ako ng pics. Kaya nga lang, most of the corals are dead. Sayang nga lang, di talaga naalagaan. I hope that sana 20 years from now, that beauty will be improved... Sayang talaga.
An hour after, we had back to our boat and went on to Starfish island. Again, nakakahilo ang biyahe. Pagdating namin, we had lunch and I went into the water again.
Starfish island kasi starfish was abundant there before. Then after, I went for a walk in the beach far from the camp place. It was a soothing experience, there was this long stretch of white sand and ako lang yun nandon. I felt like walking, making footprints in the sand echos-echos and also taking pictures. It was also a nice place to relax and to think. Then after walking, I went for a swim. It was called starfish island so I was expect to be seeing starfishes.But ngayon, wala ka ng makikitang starfish (except for like 5 starfishes on shore). Because of man's abuse of nature, the once very spectacular island turned into a mismanaged place. Pag alis nga namin, there were this pinoy tourist na binabato yun starfish as if it was a ball. Grabe! Living thing yan! Di yan laruan!. Nakakainis lang talaga. I hope ma-karma sila. I hate yun mga turistang ganyan!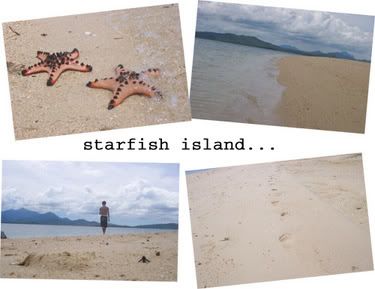 Then we went to this lu-li island. this was island was supposed to be non-existing on a high tide and since it was in lowe tide. Nakapaglakad-lakad kami sa beach. Again, white sand beach ang nandun and some good and clear waters.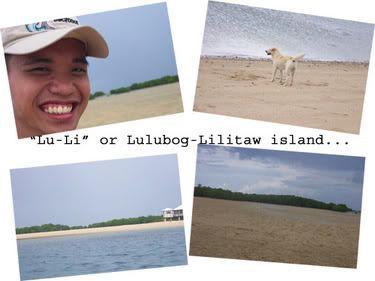 As we went home, it started to rain. As in malakas na ulan. We were in the middle of the sea, on a not so sturdy boat with winds and waves splashing. Mas matindi pa siya sa ride sa Universal Studios. Nakakatakot kasi baka bigla tumaob yun bangka. Kasi, big waves talaga. Pero we returned to the port safely, kaya lang basang-basa ka nga lang.
Dumating na kami sa hotel ng mga 4pm and I just rested for a while and headed to the town proper para magsimba. After, I headed back to the hotel to have dinner. We had dinner with my malayong uncle and cousin. Yun palang uncle ko na yun was the former owner of the island that is now Club Noah Resort ( a first class resort in Palawan). Nakakatuwa lang.Then after dinner, balik hotel na kami, fixed my stuff and went to sleep.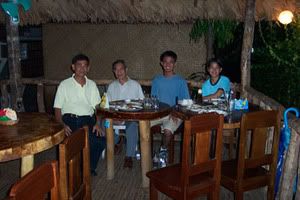 I woke early the next morning to prepare for our flight. At breakfast at the hotel, we met this couple from Spain who was in Palawan for there honeymoon. Tinanong ko sila, why did chose Palawan instead of Bali etc. Sabi nila, mas gusto daw nila sa Palawan, since it was not crowded. Buti pa sila, naappreciate ang beauty ng Pilipinas. Bakit ang mga Pilipino magbabakasyon, they choose destinations outside of the country kahit na there are truly beautiful places here in the Philippines.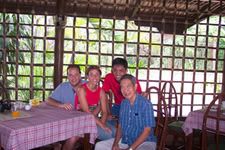 Yun ang natutunan ko from this trip, there are more places to discover in the country, more places much better and richer from other countries, marami tayong mga untouched locations that di pa nagagalaw ng modernisasyon. Tama nga na sabihin ni DOT, na "Tara Na! Biyahe Tayo". I'm planning tuloy to go into the places in the song. DISCOVER PHILIPPINES.