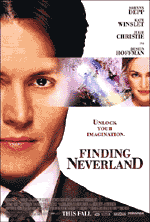 Finding Neverland is about J.M. Barrie's (played by Johnny Depp)story on how he had formulated his famous book, Peter Pan. I don't want to elaborate about the story because I really want you to watch it.
Johnny Depp's performance was superb. As compared to his portrayal in Pirates of the Caribbean, he completely removed his trademark quirk. But still I love the way he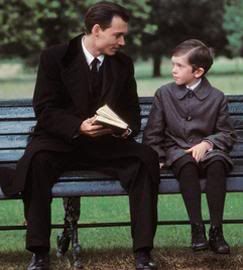 spoke with a Scottish Accent even though I do have problems understanding what he is saying because the DVD copy has no subtitle feature. Sigh. Also along with all-star
cast members like Dustin Hoffman and Kate Winslet it is truly a magical film. I would also like to note the performance of the kid who portrayed Peter, he is so great.
Truly, the Oscar people were right giving the film nominations like
Best Actor
for Johnny Depp, A
chievement in Art Direction, Costume Design, Film Editing, Original Score, Adapted Screenplay and Best Picture
. I hope Johnny Depp will win the Best Actor Award.
Rating:
4 out of 5 Thumbs Up