Another season of Survivor kicked out. Hmmm. Comments-comments lang.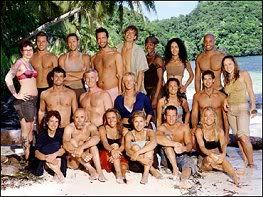 Once again a new twist had unraveled. Even before the contestants had their first night, two survivors were out, Jonathan and Wanda. I really liked Wanda for some sort of reasons, pretty much I hated the fact that she was out even before the game really started. Haaay!
Wanda

Jonathan

Jolanda

Then later, Jolanda was out. Haay. Sayang! A good leader pa sana. Haay. Sayang talaga.
Well I just want to give my favorite/bet for this season.

1.
Bobby Jon
- He's silent yet a good player. Probably
my bet for the final survivor.
2.
Janu
- This girl showed some guts at the first episode.

3.
Ian
- a really strong and smart guy! Wala lang.

4.
Stephenie
- she's pretty! harhar

5.
Willard
- I always have a soft heart for old people in Survivor! I hope he can survived the game.
Well. Looking forward on the next episode.